Poroshenko promised to sign a law banning St. George ribbons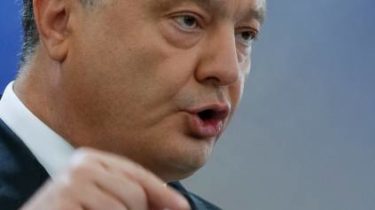 President Petro Poroshenko assured that he would sign a law banning St. George ribbon as soon as it will come from the Verkhovna Rada.
The President said may 21 during his speech on the occasion of Day of memory of victims of political repression in the National historical memorial reserve "bykivnya graves."
See also:
The Ukrainian people are able to live without "controlled by the KGB-FSB of social networks" – Poroshenko
According to Poroshenko, the St. George ribbon is not the symbolism of the Second world war, as a symbol of aggression against Ukraine 2014-2017, because "hung these ribbons militants kill our soldiers every day and night."
"In the end, unfortunately, Russia's policy towards Ukraine itself has put the tape outside the law", — said Poroshenko.
Recall, may 16, during meeting of the Verkhovna Rada deputies adopted a decision to ban the manufacture and promotion of the St. George ribbon. For a decision voted 238 members of Parliament. In the explanatory note to the document States that it provides for administrative liability for the production and promotion of St. George ribbons.
"Propaganda George (guards) ribbon is a public use, display, possession, and distribution of St. George (guards) of the band or its image", — stated in the text.
Comments
comments