The NBU will sell the rights of the owner of a giant of an unfinished shopping Mall in Kiev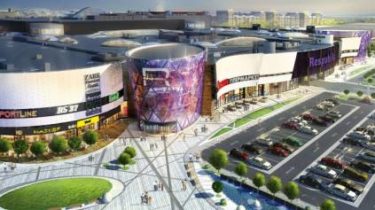 The economic court of Kiev allowed the National Bank to sell the corporate rights of the owner of the shopping center "Republic" in the capital.
It is reported by the controller.
In particular, the court may 18, upheld the claim of the national Bank to Cypriot company", Berlinetta limited" to foreclose on the share of corporate rights of LLC "Megapolisstroy".
In March 2016, the regulator filed a lawsuit against the Cyprus company with the request for partial repayment of the debt of the insolvent Bank "Nadra" to the NBU.
Previously, "Megapolisstroy" took a loan from the Bank "Nadra", giving as a pledge of corporate rights to the unfinished project "Shopping and entertainment center "Respublika". Subsequently, the Bank "Nadra" gave these corporate rights as collateral to the national Bank under the refinancing loan.
Later this Bank became insolvent and couldn't repay the Bank debt in the amount of 4.4 billion.
Therefore, the Bank through the courts to realize its rights as a pledgee of corporate rights of the owner of the Mall.
We will remind, companies associated with the ex-head of presidential Administration Sergey Levochkin, belongs to a whole "town" in Kiev. SEC "Respublika" is one of the largest infrastructure facilities of Ukraine – is situated on the Ring road. The project was a huge shops, sport center, residential neighborhood, private educational institutions and bus station "Teremki". Previously, the SEC was attributed to the oligarch Dmitry Firtash, however, the reporters found that the company in contact with Levochkin, also associated with them.
Yes, the owner, lessee of land under a "Republic" and the investor of the object is OOO "Megapolisstroy". The founder of that company is a Cypriot company "Berlinetta limited". CEO of "Berlinetta" is Amal, Sarot, Lambrou, whose name appeared in the investigation of journalists on the estate of Sergei Levochkina on the Cote d'azur in France.
The national Bank and the Deposit guarantee Fund of individuals has already announced its intention to sell "Republic" as collateral "Nadra". But the "clearing house" in parallel, in December 2015 draws up a number of areas are already at that location on yourself.
Comments
comments