Russia is blocking a meeting "Norman Quartet" at the presidential level regarding Donbass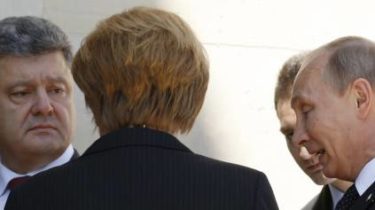 Russia is blocking a meeting of leaders "Norman Quartet" at the highest level. For a peaceful solution in the Donbas is ready for the negotiations of the leaders of the countries were France, Germany and Ukraine. All, except Russia.
This follows from the talks of Deputy foreign Ministers, which took place in Berlin, says the plot of TSN.Ranok.
Meeting in residence of the Ministry of foreign Affairs of Germany lasted about three hours. The diplomats came back the next day after the President of France Emmanuel macron took in Versailles Russian President Vladimir Putin.
According to Ukrainian diplomats, France remains a partner of Ukraine. However, the talks brought no breakthrough. The Ukrainian side hopes for progress in the exchange of hostages and offering to announce the following silent mode, which should ensure Putin personally.
"The French side is interested in holding this meeting, the German side is also active, the Ukrainians are ready to meet at any time, there is one small detail – is the Russian Federation, when President Putin will be ready to sit down at the negotiating table", – said the first Deputy Minister of foreign Affairs of Ukraine Vadim Pristayko.
Meanwhile, the foreign Ministry does not exclude that the meeting "Norman Quartet" may take place after the summer holidays Merkel.
Comments
comments