Shot Osmayev killer received a Ukrainian passport in 2016 – Gerashchenko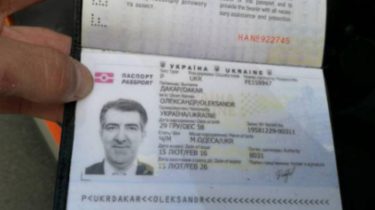 The killer, who is in Kiev, was shot in the former volunteers , ATO Adam Osmayev and amine Okueva, discovered documents of the citizen of Ukraine – Dakar Alexander Manusovich, 1958.
About this Facebook said Advisor to the Minister of internal Affairs of Ukraine Anton Gerashchenko.
According to him, now the police and intelligence agencies to check the reality of the existence of such a person and his life story. The passport of the citizen of Ukraine this man received 10 February 2016. Passport – February 15, 2016. Identification of code – February 11, 2016.
"The citizen of Ukraine, most likely, not a Dakar Alexander Manusovich. And absolutely other person who regularly traveled to Russia for instructions from the Center", – said Gerashchenko.
He added that "the last his return from Russia was in the middle of the month of may. Then this citizen suddenly decided to contact Adam by Usmevem and Amine Okueva under the guise of a journalist of the French newspaper "Le Mond". The investigation will examine all versions of the motives for the assassination of Adam Osmayev and amine Okueva, for example, Chechen trace, "which is more likely to promote Russian propaganda media and their supporters in Ukraine."
See also:
Police called the basic version of attempt at murder of the ex-volunteers of ATO in Kiev
"Another version, which is obvious in this case, is the attempt of a well thought out and organized assassinations, prepared in advance is introduced in Ukraine Hitman, prepared by the Russian special services," – said Gerashchenko.
He takozh reported that Amina Okueva stopped the killer with four bullets from a pistol, which she was awarded the Minister of internal Affairs Arsen Avakov in the summer of 2014 on the mountain Karachun under Slavonic.
"Killer awaits trial and likely life in prison if he doesn't bahadorani with the investigation and will not talk about the details of his recruitment and organization of attempt at murder," summed up Gerashchenko.
The killer is under the protection of riot police. Also measures were taken to prevent the killer committed suicide.
Comments
comments