Poroshenko requires public reports of security forces regarding the investigation of the murder Sheremet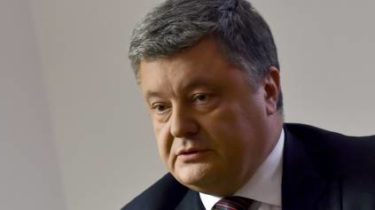 President of Ukraine Petro Poroshenko urged the law enforcement agencies to publicly report on the investigation into the murder of journalist Pavel Sheremet.
The head of state said during a meeting with media representatives on the occasion of their professional holiday.
The President noted that now the work of journalists in many ways is unprotected. In particular, this is confirmed by the murder of Pavel Sheremet.
"I hurt like most of you. I'm also with you and require a public report of law enforcement bodies on the investigation of the murder of Paul," – said Petro Poroshenko.
"Was very important not to spread. But I am convinced that a wide range of people need to know the details, except for those matters which are secrecy of the investigation", – he said. The head of state that the perpetrators and masterminds of crimes against journalists must be held accountable.
See also:
The head of the national police admitted that the murder Sheremet has not yet reached the finish line
In may, the Network appeared the film investigates the murder of the journalist "the Ukrainian truth" Pavel Sheremet. On the creation ribbon worked journalists of the project "Classtwo.Info" and the international network of OCCRP.
During the investigation it turned out that the night before the murder of the journalist Pavel Sheremet in front of his house was spotted by former or current employees of the SBU. He was recorded by surveillance cameras. He was present near the house of Sheremet at least a few hours – and on this night under the car of a journalist laid the explosives. The reporters found that the man's name is Igor Ustimenko. As of 2014 he was a member of the security Service of Ukraine.
Pavel Sheremet was killed in the center of Kiev 20 Jul 2016. The journalist was buried in Minsk. According to investigators, the attackers attached explosives to the underside of the car, at the wheel which was Sheremet. While the crime remains unsolved. In this regard, Human Rights Watch stated concern about the lack of results in the investigation of the murder of journalist and restriction of media freedom in Ukraine.
In February, law enforcement authorities reported about the investigation of the murder Sheremet. In particular, it was reported that the murder of a prominent Belarusian journalist , the attackers used anti-personnel mine mon-50. The investigation identified the priority version of the crime. In addition, the police noticed that during the investigation, was questioned 1,800 people, including more than 300 direct witnesses of the explosion, residents of homes in the area of the explosion.
Comments
comments