NACP decided to fully verify the Declaration of Gontareva – media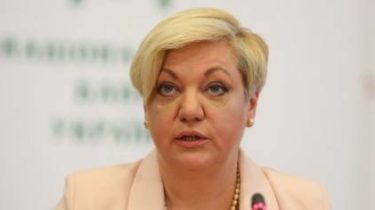 The national Agency for prevention of corruption was appointed full verification of property returns for the years 2015 and 2016 , the head of the NBU Valeria Gontareva.
This is with reference to a source in NACP writes "Ukrainian truth".
As noted, the Deputy Chairman of the NACP Ruslan Radetsky instructed to carry out "monitoring and full scan" returns a number of officials.
According to the source, in the list of persons subject to verification, and the Chairman of the NBU Valeria Gontareva.
In addition, among them, stated Deputy head of the Kyiv regional state administration Oleg Mishchenko, first Deputy chief of tax inspection on work with major taxpayers in Donetsk, Oleg Sokolov, the judge of seaside regional court of Odessa Oleg Vociferous, the mayor of Liman, Donetsk region Peter Cimitan and others.
We will remind, the head of the NBU Valeria Gontareva in 2016 , has declared 57 million UAH of income. The salary for last year amounted to 1 million 969 thousand UAH 757. With tax deductions, the head of the financial regulator received 1 million 580 thousand UAH per year or an average of 131 thousand UAH 690 per month. The lion's share of the income of Gontareva 52 million 572 thousand UAH – for the third tranche from the sale of the shares of the company ICU Holdings Limited.
10 APR Gontareva at a press conference said that filed a statement of resignation of 10 may to the President of Ukraine Petro Poroshenko. The national Bank has already stated about the post-employment Gontareva. She is now formally gone into a protracted vacation, which is not going to return, and her duties carried out by the Deputy – Yakov Smoliy.
Comments
comments