In the Kiev region custom was severely beaten by the Chairman of LIC kotsyubinskogo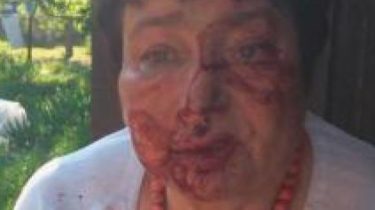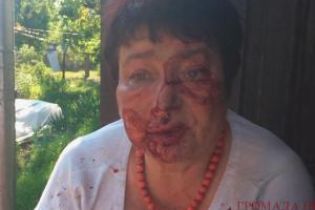 This morning, June 14, in the Kyiv region in the village kotsyubinskoe young people in order beat the Chairman of the TEC of the village Lyudmila Demchenko.
An attacker with a can of "Teren-4" to assault a woman in the yard of her private home, according to the "community of Pryirpinnia".
"I went out into the yard in the morning and near the gate stood a man. I asked who he was. The man said that is a new provider and offers. He had sheets of A4 and there was something handwritten. I asked, why do by hand what the Treaty was not printed and was about to close the gate. At this point he hit me. I fell and he started to beat me. I shouted and I got out my son and a neighbor. The striker was spray – "Tional -4", – said the woman.
It is noted that on a place of incident there arrived activists and MPs, including Helen, Socotec, who heads the parliamentary group "Private sector" where there was an attack on the Chairman of the TEC. Striker was lying twisted on the ground.
"Striker said that his name was Cyril. He is from Kiev. He was hired to do some "Serge" with the beard "Pogorelovo" it's like he didn't know, but then ssaav that his "Pogorelovo" – tank. The conspirator said to come specifically to this house, to take nothing and make something that made the striker. When asked what to do, the striker said – to do what I did. For this he promised to pay 1,000 hryvnia," – says Socotec.
According to the report, residents of the private sector wanted to Lynch at the scene because Demchenko – old resident of the village, you know everything local. Demchenko helps to issue grants to residents of the village.
Police arrived at 8:30. On the attacker handcuffed. It was later revealed that the attacker himself from the White Church. Now lives in a dormitory on Borshchagovka.
At the spot, the ambulance arrived. Demchenko provide medical assistance.
Earlier, in the village kotsyubinskoe near Kiev there was an attempt on the life of the village head Olga Matyushina. At least so claims the victim of the attack. Two guys in sports in the evening attacked the woman and her colleague. Beat one of them and fled, taking nothing. Chapter kotsyubinskogo sure is the handiwork of political opponents who are trying to divide the forest and local land.
Comments
comments