Medvedchuk – the Ukrainian nationalist. Putin recalled his godfather during the "straight line"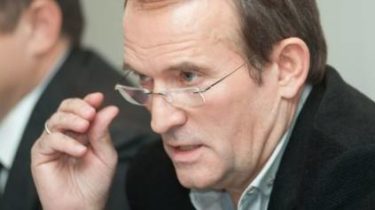 The President of Russia Vladimir Putin is convinced that Viktor Medvedchuk – the Ukrainian nationalist.
The head of the Federation said during a "Straight line" on Thursday, June 15.
According to Putin, he has many friends from Ukraine, in particular, it is Viktor Medvedchuk.
He met with Leonid Kuchma.
"I believe he's a Ukrainian nationalist. He considers himself enlightened putricom of Ukraine", – said the President and added that Medvedchuk's father was the OUN, and was taken first to prison and later into exile.
See also:
Why you left us? Putin on "the direct line" has asked possible from Kiev
Putin said that Medvedchuk has its own views, he for an independent Ukraine. According to the President of the Russian Federation, the views of his godfather is based on the writings of Ukrainian nationalists, which were written in the 19th century.
According to Putin, they all advocated an independent but Federal Ukraine.
In addition, the head of the Russian Federation is convinced that these views are held and Mykhailo Hrushevsky, Ivan Franko, and Vyacheslav Chornovil.
"Some fundamentalists have not seen the Crimea as part of Ukraine and advocated the federalization of Ukraine. The same view is shared by Medvedchuk, and favoured good relations with Russia. It is foolish to destroy what is left of the past", – said Putin and added that many do not like the fact that Medvedchuk defended its position.
Comments
comments