The deputies from the "Self-help" stop the hunger strike near the AP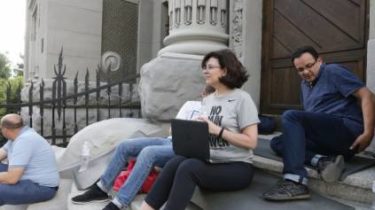 The MPs from the "Samopomich" Oleg Berezyuk and Taras Pastukh stop the hunger strike under the Administration of President.
About this bereziuk said at a briefing on Saturday, June 24.
See also:
The garden will give RSA functions for garbage collection
"For six days here I feel much more useful than 2.5 years in Parliament. But I'm sorry that these six days I've been here, because I want to live and work in a state that values people, I want to live in a state that has institutions… So we thought Taras, consulted with friends… Here, by and large, no one to talk to. Thank you, we decided that today Taras finish this difficult journey and begin the path to their homes", – said Berezyuk.
"We'll need more lions, tomorrow it is going in the chamber. Because the lions today, must say its word. Here, by and large, no one to speak," he added.
A briefing by Andriy Sadovyy, Oleh Bereziuk and Taras Shepherd. Broadcast live
Published by the Association "Self-help" 24 Jun 2017
At the same time, the head of the party, mayor of Lviv Andriy Sadovy thanked Berezyuk, a Shepherd and Oksana Rawfoodist for their "courageous act".
"The government failed to bend us, we survived," said Garden.
See also:
Lviv activists came out to sort the pile of rubbish before its removal
We will remind, the Vice-speaker of the Verkhovna Rada Oksana Rawfoodist, which participated in the "trash" starvation under the presidential Administration on Bankova street, a visor "fast". She became ill.
Officials decided to protest at the presidential Administration against government inaction on the issue of garbage collection from the city. The Chairman of the faction "Samopomich" Oleg Berezyuk said about the hunger strike on June 19 after lunch the same day he was joined by Vice-speaker of the Verkhovna Rada Oksana Rawfoodist. Later they were joined by another MP from the "Samopomich" Taras Pastukh.
Comments
comments