The case of treason Yanukovych postponed to 29 June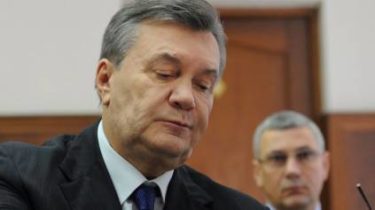 In the meeting of the Obolon district court of Kiev on consideration of the merits of high treason and deprived of the title of President Viktor Yanukovych declared a break.
The panel of the court decided to postpone the trial to 10.00 a.m. on Thursday, June 29, due to the absence of the accused.
As noted, the lawyers of Yanukovych opposed the petition of the Prosecutor of GPU Ruslan Kravchenko on the application of the in absentia proceedings and assured that the President-the fugitive will be able to get in touch on June 29.
After that the court decided to postpone the meeting on June 29 due to the fact that under the Criminal procedure code, the accused had twice failed to appear without valid reasons to the court to decide on application of special trial.
Now recorded only one failure of Yanukovych without a good reason for a meeting, so in the case adjourned.
At the same time, the judge noted that to come to court or participate in a video conference – it's only the will of the accused.
We will remind, in November of 2016 , the Prosecutor General Yuri Lutsenko announced the suspicion of treason Viktor Yanukovych in the premises of Sviatoshynsky court, being in direct contact with the Rostov court, where the President is a fugitive.
Comments
comments