Activists said the beating by police of volunteers ATO in Kiev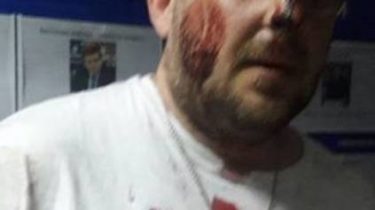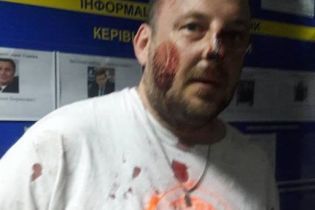 Network activists reported the beating in the capital of fighters anti-terrorist operation by the police after the incident with the provocateurs in the cafe.
This was stated by volunteer Nazar Prikhodko on my own page on Facebook.
Supposedly, the volunteers entered the conflict in a cafe, called the police and the security forces allegedly beat him up brutally. "Right now, the Dnieper district Department of internal Affairs took the ambulance – the other one is still there," Prikhodko wrote on the night of 3 July.
Alarm caring society! The situation is this: Two volunteers who fought in 14-15 years, sitting in a cafe. At the next table…
Published by Nazar Prikhodko July 2, 2017.
"Ruslan hospitalitynet. It's heavy. Waiting for the lawyers will demand that protocols of detention and other treatments to think" – later said Prikhodko.
See also:
In the incident in the river may 9, 3 cops suspended
According to the activist Ilya Oleinikov, a member of the movement "Road control" ATU fighter Ruslan allegedly brutally beat ex-employees of the disbanded "Berkut".
Wall and floor in blood….the photo of the real carnage…..Ruslan all the time been in handcuffs… Cameras in otd…
Published ILU Oleynikov July 2, 2017.
Activist Anna Sinkova, in turn, released a video of the detention of volunteers. She claims that the video shows that "detainees purpose to send to the Department of injuries they had.
18 + warning! In the video there is profanity!
Video of detention. It is evident that detainees purpose to send to the Department of injuries they had. It is also seen that during the detention of strikes to the head.
Published Anne of Sinkovo July 2, 2017.
Photo of a beating. Investigative to remove them and not tried
Published Anne of Sinkovo July 2, 2017.
Police now not to comment on the incident in Kiev.
We will remind that earlier on the evening of 27 June in the village of Berezhanka Kirovohrad region , clashes broke out during an attempt of raider capture of the farm enterprise.
A veteran of the battalion "Donbass" and the owner of the security company Evgeny Shevchenko said that the fighters of "Donbass" and "Aydar" helped the local farmer to prevent the aunts to carry out power capture of the enterprise.
According to Shevchenko, in the village pulled the national guard and special police, and security forces allegedly "without explanation, began arresting and beating veterans and peasants". According to him, 20 people were hospitalized with various injuries. Video from the event published in social networks.
volunteers
the incident
ATO
Kiev
fight
police
Send to a friend

Print

Letter to the editor
© Materials
Facebook/Ilya Oleynikov
,
Facebook/Nazar Prikhodko
/ O. K.
Saw a bug — Ctrl+Enter
Kiev
Today, 03:10
The number of comments

1

The number of views

8
Facebook

VKontakte

Google+

Twitter
Leave your comment

Leave your comment
Send
Comments to the post
Last
First
Popular
Total comments:
Editor's choice
Comments
comments