In Bahmut, the pair brought home the fuse from a grenade and blew up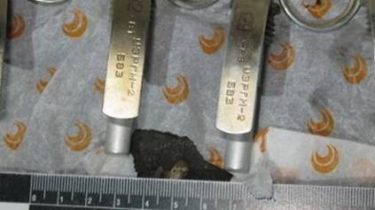 In Bahmut, a young couple walking their dog, found a fuse from a grenade, took it home and had a blast. Police say 25-year-old boy had a disability due to poor eyesight and just didn't recognize the threat munition, says TSN.16.45.
The victims were lucky because survived, because the fuse of the grenade has a small amount of explosives, but this is usually sufficient to severed fingers and knocked the eye. Bakhmutsky victims in the hospital. Explain that just found a strange object, brought it home and dismantled.
See also:
Explosive debris: trash in Lviv found five grenades
Valeria, he is 25, issecheny side and badly burned the back of his beloved 19-year-old Natalia concussion, but the girl was left in the hospital because she is pregnant and needs more testing. Police say the guy could not understand that the munition because they do not serve in the army, and is also visually impaired.
During the explosion were injured and a dog pair. But the threat to her life or not.
Video settings Bahmut couple was blown up by a found on the street the fuse from a grenade
TSN. 16:45
Today, 17:14
Facebook

VKontakte

Google+

Twitter
Comments
comments