Ukraine can create a free trade zone with the UK after Brexit.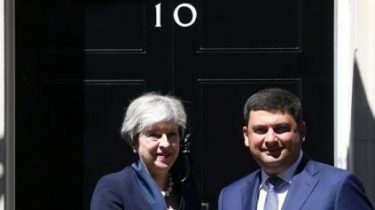 Ukraine and the UK agreed to hold negotiations on a free trade zone.
This was stated by Prime Minister of Ukraine Vladimir Groisman during his visit to London, writes UNIAN.
"If we look at the trade between the two countries, for the current year is slightly more than $ 2 billion. In fact, the potential could be $ 3.5 billion. Given that the UK took the decision to withdraw from the European Union, we need to talk about the new Foundation[ of our economic cooperation", – he stressed.
According Groisman, raised the issue, he received support from the British side.
"We will start consultations on approaches to the establishment of a free trade zone. We believe that Britain has a strong interest in new mechanisms of cooperation", – said the Prime Minister reminded that Ukraine already has a free trade zone with Canada, and now working to establish this with Turkey and Israel.
See also:
The British Ambassador will take over the "softening" of the visa regime for Ukrainians
In addition, Groisman said that Britain has a clear position regarding the condemnation of Russian aggression in Ukraine and support reforms in the country.
"We discussed a whole range of issues, from security and defence, political cooperation, and to support reforms in the country and deepen our economic cooperation. I want to stress that the UK is a strategic partner that has never changed its position and supported Ukraine in all endeavors. Now we can emphasize absolutely clear position regarding support for our territorial integrity, regarding the condemnation of aggression of the Russian Federation, to support the policy of sanctions against the aggressor. We have a full understanding of our cooperation", – he concluded.
Recall last year that Britain had suspended the membership of the European Union voted 52% of voterswho came to the referendum on the issue. In March, the country's Prime Minister, Theresa may, after approving the decision of the Parliament officially launched the process of withdrawal from the EU. She wrote a formal letter of intent of the country, which gave the President of the European Council Donald Tusk.
Comments
comments