In Russia, the robot rescued the child, who almost collapsed wardrobe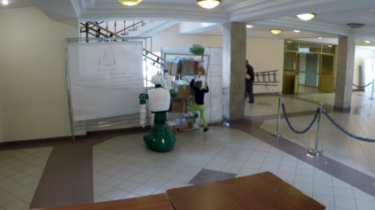 On Tuesday, July 4, on graduation day at Perm Polytechnic Institute Autonomous robot Promobot v. 3 saved a little girl.
This was reported by the Daily Mail.
According to the source, Promobot, who was invited to the solemn words in the prom, waited for the event in the corridor. At this point in the room ran a girl and decided to climb on the rack with heavy equipment. Suddenly he began to fall, and the robot held out her hands and held closet.
As a result, nobody was hurt.
One of the founders of Promobot Oleg Kisakurek explained that when the girl ran into the room, the robot began to repeat her movements and go in her direction.
"We are pleased that Promobot was there at the time, otherwise it could end badly for the child. It is in order to improve people's lives, we create our robots, " said Oleg Kokorev.
We will remind, earlier in Britain, a four year old boy saved his mother's life by using voice control assistant Siri. The child used the mother's hand to unlock the iPhone. Already he asked Siri to communicate with rescuers.
Comments
comments