Lavrov urged "not to play on the feelings of the family" captured in the Donbas, the Russian contractor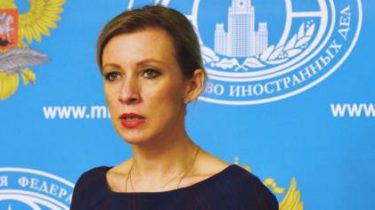 The Russian foreign Ministry urged "not to play on the feelings of the family" , the Russian contractor Victor Ageev, which is in the Ukrainian captivity.
About it told the official representative of the Ministry Maria Zakharova, reports UNIAN.
According to her, Ageeva "have close relatives who care" and are "difficult emotional state."
"The big request: not to play on the feelings of the family, relatives, close people and use tested, reliable data. We are ready to comment on the situation," she said, and added that it is necessary to avoid "information provocation".
See also:
The mother was detained in the Donbas Russians denied the statements of the defense Ministry of the Russian Federation about its dismissal from service
The Russian foreign Ministry called an "absolute lie" the reports that Russia dumped Ageeva in captivity.
Zakharova said that the Russian Embassy in Kiev in the framework of its competence is "active in the protection of the rights and legitimate interests of Russian citizens".
The clerk promised to inform the Russians about the fate Ageeva, although, according to her, it is impossible to publish the full information about it, including from safety reasons.
We will remind, in the Luhansk region was captured Russian soldier Viktor Ageyev, who volunteered for service in the Altai region and were under contract.
About it the Russian service of the BBC reported interlocutors in the Ministry of defence and command of the 93rd separate mechanized brigade of the armed forces of Ukraine.
Mother of Victor Ageeva, his friends and former colleagues confirmed that after military service he left to serve in the army under the contract, which was signed in March 2017. Scout Victor Ageev 1995 year of birth was captured on 24 June in the village of Zholobok of the Slavyanoserbsky region of the Luhansk region as a result of collision of fighters of the 93rd mechanized brigade and the reconnaissance of the 4th mechanized brigade of the 2nd army corps of the self-proclaimed "Luhansk people's Republic" (LNB). On this edition of informed sources in the 93rd brigade and the defense Ministry of Ukraine.
Comments
comments