Lutsenko disrupted the meeting of the procedural Committee of the Verkhovna Rada on deprivation of immunity of the MP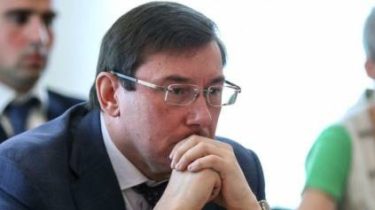 The Prosecutor General of Ukraine Yuriy Lutsenko prematurely left the meeting of the procedural Committee of the Verkhovna Rada, which examined the question of deprivation of parliamentary immunity of MP from the "people's front" Maxim Polyakov.
Before that, the attorney General was posconflicto with a Deputy, Sergei Shakhov, accusing members of the Committee in covering up corruption.
"You're biased attitude… You're covering up the corruption here in this room… Damn it! When I started asking questions yesterday one of you here, I'm not allowed to do so, because we went to hot. Are you afraid that people saw corruption. Today you're trying to close your mouth! Fail! You're all here doing the coverage of corruption… Accept the decision, in the end, do not engage in suicide of the Verkhovna Rada!" – Lutsenko declared.
In turn shahs parried him with the phrase "the truth will reach to feet *ops erase".
After that, Lutsenko left the room, despite appeals to stay and continue the meeting.
Note, for a decision on deprivation of parliamentary immunity Polyakov at the meeting of the procedural Committee must attend the attorney General or the person performing his duties.
In the meeting of the Committee adjourned until 14-00.
After the break, calm Lutsenko returned to the Committee meetingto complete consideration of the Polyakov.
We will remind, the Director of NABU Sytnyk June 20 during a press briefing disclosed a scheme for the extraction of amber, to say nothing of the people's Deputy from BPP Boryslav Rozenblat and the MP from the "people's front" Maxim Polyakov. According to the head of the Bureau, referred to the scheme under the guise of reclamation of Zhytomyr region planned actual amber extraction and subsequent implementation through an offshore company where the founder was the sister of Rosenblatt.
The amount of bribes received in the said case is more than 300 thousand hryvnias. June 19, detectives of the National anti-corruption Bureau of Ukraine detained the security guard of the people's Deputy from BPP Borislav Rosenblatt during receiving a bribe of 200 thousand dollars. The people's Deputy Serhiy Leshchenko claimed that co-defendant Rosenblatt received money for the solution of a question on licensing of production of amber.
However, he said the accusations against his security guard provocation.
Deputies Rosenblatt and Polyakova want to deprive of immunity – they both appear in the amber case. The corresponding representation is already prepared.
Comments
comments