An expert on body language said one of the presidents dominated during the meeting, trump and Putin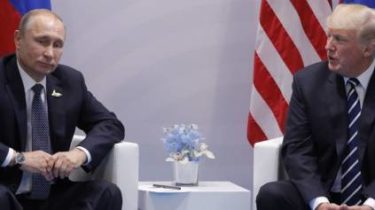 People have the impression that the US President Donald trump, and the leader of the Russian Federation Vladimir Putin is very confident, but it's their bodies is very different.
This was stated by the expert on body language Mary Civiello, reports BBC.
See also:
"The clumsy grip of a trump." Users were shocked by the strange manner of the US President to shake hands
According to the expert, the fun starts from the very beginning – the handshake. Civiello noted that trump makes this gesture a lot of attention. However, during the handshake trump and Putin showed no signs of dominance of any of them. But immediately after this the tramp with the other hand took Putin under his elbow, as is the gesture of the man that dominates.
"If you meet someone who scared you a little, or someone with whom you feel insecure, you will never find an additional response, or not touch the hand from below", – said the expert.
Trump later repeated that gesture again when they stood side by side, and then patted Putin on the back, again finding a dominant position.
Comments
comments