Went to fit the need: civilians were killed in the Majorcan due to stretching near the road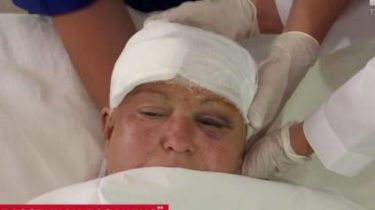 Physicians regional hospital Dnipro managed to save the life of 36-year-old Natalia Minchenko. The day before she and her husband hit a mine near Mayorsk in the Donetsk region, said in the story TSN.19:30.
The couple returned from guests on a rural road. The man went to the landing and suddenly there was an explosion – presumably, this was a stretch between trees. The woman said that when I woke up, tried to help her husband, but he didn't respond. "Her husband went to relieve himself in the landing. And here, as the explosion comes! I blast took, and lost consciousness. Woke up, opened his eyes, and see nothing. Thought fragments in my eye… He lies, face isecheno fragments. I pulled – he grunts. And yet," – said the victim.
Video surveillance rural road near Mayorsk, a mine blew up a couple
TSN. 19:30
Yesterday, 20:02
Facebook

VKontakte

Google+

Twitter
With a heavy wound to the head Natalia have reached the Ukrainian checkpoint, where the military has provided her with first aid. In two nights it was taken by helicopter to the Dnieper. Neurosurgeons immediately began the operation, which lasted more than four hours. "She has completely broken the frontal part of the head, managed to get some of the fragments. One splinter has gone very deep, to get failed. However, the operation went quite successfully," – said the chief doctor of the regional hospital. Mechnikov Sergey Ryzhenko.
The patient has regained consciousness and is breathing independently. That the wound of her husband was deadly, she doesn't know. Yesterday in a press-service of the Main Directorate of the National police in the Donetsk region have informed that have suffered in this tragedy , the 36-year-old woman and 38-year-old man, both residents of the village Zhovanka.
Comments
comments