"The spirit of the parliamentary self-defense." The GPU explained why the Committee was not allowed to remove the immunity of MPs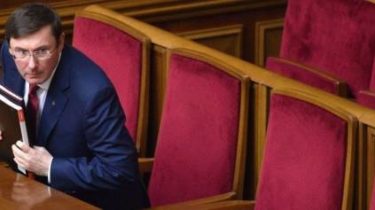 The General Prosecutor of Ukraine Yury Lutsenko on air of TSN.Tigana stated that he hopes that the Verkhovna Rada will take a decision on the deprivation of immunity in respect of all six MPs.
"As a man, I am an optimist… Under the focus of all cameras and their constituents, the deputies are often make responsible decisions. I believe that all six members will be voted", – Lutsenko noted.
See also:
PGO investigates new criminal cases against MPs and current Ministers.
In case, if the Verkhovna Rada will not be able to make such a decision before the holidays, the head of the GPU promises to send representation to the Committee on rules of procedure and the Parliament again.
Lutsenko expressed the opinion that the procedural Committee of the raging spirit "Deputy defense", so the decision was only regarding the people's Deputy from BPP Borislav Rosenblatt.
"I think that was dominated by factional and even sectarian solidarity(…)the Case of Rosenblatt worked on that members understand nemoznost further systematic rejection of evidence", – said the Prosecutor General.
He stressed that the results of the sensational RAID was not set up for visits to Ukraine of foreign officials, and the work of investigators did not depend on any external factors.
As previously reported, since July 10, the Verkhovna Rada should decide on lifting immunity of six MPs: Evgeny Deydey (people's front), Oles Dovgy ("will of the people"), Andrey Lozovoy (Radical party of Oleg Lyashko"), Maksym Polyakov (people's front), Borislav Rosenblatt (PPB) and Mikhail Dobkin ("the Opposition bloc"). They are suspected of various shenanigans.
Comments
comments