Poroshenko told under what conditions and when Ukraine will apply for NATO membership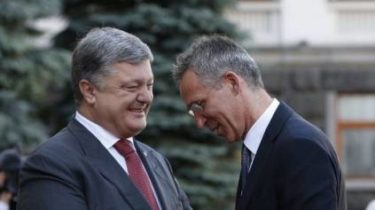 One of the future priorities for Ukraine is to join NATO. Now conducting preparatory work, reforming the army and transferred it to the standards of the Alliance.
"We will immediately apply for membership. We will build a real program of preparation for NATO membership, the program of our cooperation, we need to intensify our efforts to achieve the required standards, and here we need assistance and cooperation with our partners in NATO. We emphasize, are ready for this, we have a very ambitious programme of sector reform defence and security, developed with the participation of our partners from NATO. The aim of these reforms is the achievement of compliance with the membership criteria," – said the President of Ukraine Petro Poroshenko during a meeting in Kiev with the Secretary General of NATO Jens Stoltenberg.
At the same time, a NATO requirement for membership is the reform of the army and its compliance with the standards that operate in the Alliance.
Today, July 10, Ukraine meets NATO partners as a country which legislatively determined the membership in the Alliance one of the key factors of its state policy. Also it took 20 years of the signing of the Charter on a distinctive partnership between Ukraine and NATO.
Meanwhile, the Alliance assured that they will continue cooperation with Ukraine in the issues of defense and economic reform.
Yesterday in Kiev on a visit arrived the members of the highest governing body of NATO – the North Atlantic Council. The delegation is headed by the 29 ambassadors of countries-members of the Alliance, NATO Secretary General Jens Stoltenberg.
On 6 July Ukraine's President Petro Poroshenko has signed the Law of Ukraine "On amendments to some laws of Ukraine concerning Ukraine's foreign policy". According to him, one of the priorities of national interests defined the integration into the Euro-Atlantic space of security , with the aim of gaining membership in NATO.
Videopretty streets and to enhance security in the capital waiting for the visit of Jens Stoltenberg
TSN. Wounds
Today, 10:05
Facebook

VKontakte

Google+

Twitter
Comments
comments