Former Atoshnik suspect in the murder of his wife and attempted suicide because of jealousy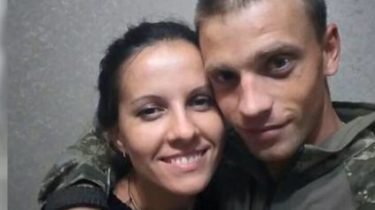 Man found with slit wrists next to a murdered wife, a former member of the ATO Oleg Krivets. Former soldier now in the hospital, and the main version of the murder called jealous, says TSN.16:45.
Relatives of the deceased Svetlana Krivets don't believe it. Saying he has long sought, and almost every day gave flowers.
"We have still a surgical Department in shock. Can't believe what happened," says a colleague of the deceased.
Nurse Metropolitan hospital Center barely holding back the tears. On the eve of their colleague, 28-year-old Svetlana Krivets, the nurse of cardiology, did not come to work. Calls not answered – the door of the apartment in the five story building, which is frequented by medical colleagues, too, has not been opened. In just a few hours they know – their friend at this time was in the apartment, but dead.
Neighbors heard strange smell, which was coming from upstairs, caused gas service and the owner of the house. When I opened the door, saw the lifeless body of the woman and the man with the cut veins.
The man was still alive, he was taken to the hospital. Inside the apartment was covered in blood, things are scattered, the mobile phone is broken. Law enforcement officers found several knives.
"Husband killed wife, self-inflicted injuries, then open the gas tried to commit suicide," – said the head of the police of Kiev Andrey Krishchenko.
The main version at the moment is a crime of passion. However, neighbors say that neither before nor had never quarrels are not heard. Of the family speak only positively.
I can't believe in a sudden attack of aggression and the colleagues of the deceased. Say, Oleg has long sought beloved, gave armfuls of colours and almost every day was met from work. The pair then got engaged and moved to an apartment, to live separately from their parents.
He was at the front. While fighting, Svetlana every day she told her friends how much waiting for his call. Returned from ATO Oleg in October of last year, and since then the girlfriend also not heard of any issues. For jealousy, they say, was not the reason. Family suggest that a surge of aggression could be due to post-traumatic stress disorder: a peaceful life he came back from hell front.
If the murder happened due to a love triangle, or was there another reason will still be set by investigators. In particular interrogate and Oleg Krivets. He is accused of murder.
This morning, the suspect was transferred from intensive care to a surgical ward. His ward is guarded by police. The man is in stable condition after a maximum of five days it is already here and will be discharged.
By TSN correspondent Anton Strashko
Comments
comments