The Russians will be obliged to register before entry to Ukraine – Turchynov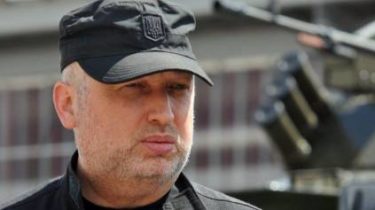 Ukraine will introduce a mechanism of pre-registration for Russian citizens who want to enter the territory of Ukraine. This was during the briefing following the NSDC meeting, said his Secretary Oleksandr Turchynov.
"Creates a corresponding technical infrastructure at all points of crossing the state border, which should start operating no later than early next year. For Russian citizens will be implemented electronic system of pre-registration", – quotes his quote "Ukrainian truth".
See also:
"Ukraine will pay a heavy price" in the Russian Federation commented on the statement by Turchynov regarding the crossing of the Russians for biometric passports
Thus, the Russian, who plans to go to Ukraine, must register in advance and provide the foreign Ministry with the necessary data. Turchinov added that he also introduced the mandatory registration of citizens of the Russian Federation located on the territory of Ukraine in the place of their temporary stay.
"And also introduces the necessity of giving information with regard to the movement on the territory of Ukraine", – said Secretary of the NSDC.
According to him, announced biometric control to foreigners would primarily affect citizens of the Russian Federation.
"As well as by removal of biometric data (fingerprints) for citizens of other countries and persons without citizenship, except for countries with which Ukraine has relevant agreements. It is obvious that in the first place it will apply to Russian citizens", – he added.
As previously reported, Ukraine will introduce biometric controls for citizens of other countries who cross the Ukrainian border. The decision was taken at a meeting of the national security Council, said the President of Ukraine Petro Poroshenko.
"We should remove all biometric data, including fingerprints and a digital photograph. This will greatly enhance the possibilities to combat terrorism," he said.
Comments
comments