No visits with relatives in the Yakut colony: prisoner of the Kremlin Sentsov meets 41-year anniversary behind bars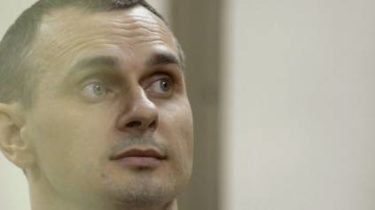 41 years today marks ukrainskomu Director, screenwriter and writer Oleg Sentsov. Now he is a prisoner: in may 2014 he was detained by the FSB of the Russian Federation. And on a trumped-up case of Oleg put in a colony of strict regime for 20 years.
See also:
Russian Director was struck by his speech about Sentsov and protect protesters
"Breakfast with 1+1" met up with my friend and sister Oleg Sentsov, who told what he writes in his letters and why refusing visits with family in a Russian prison.
Previously, Oleg was a successful businessman, and then decided to devote his life to art and started making films. However creative plans of Crimea has changed the situation in the country. He took an active part in the Euromaidan, and then the Director became a party to the atrocious script written in the dungeons of the Russian FSB. Sentsov was born July 13, 1976 in Simferopol. He studied at the economic University, then opened a computer club. In 2008, decides to devote his life to cinema. Removes the first two educational short films. And in 2012, his feature film "gamer" – Pro players in computer games – look at the international film festival Rotterdam.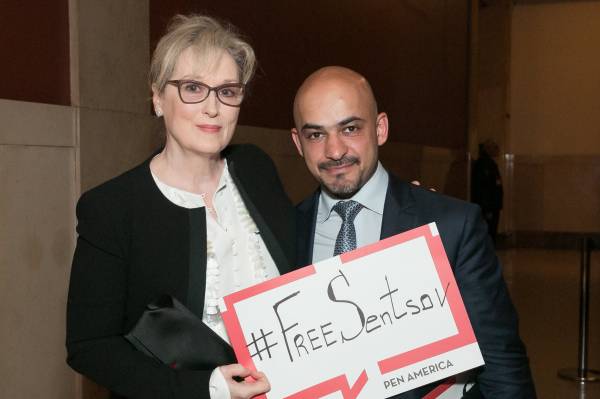 facebook/Mustafa Nayem
MP Mustafa Nayem: Meryl Streep agreed to a photo without any reservations, adding: "you know what, let's get together – who would believe that I came up with this sign".
Subsequently, at the Odessa film festival Oleg represents the idea of the film "Rhino" and is already beginning work on it. You have to suspend because of the Euromaidan – Oleg could not be aloof from the events that took place in Ukraine. During the Crimean crisis he often visits his native Simferopol where he tried to organize a campaign "For a United country." And delivers products of the Ukrainian military units, which had been blocked by the invaders.
This activity Sentsov don't like the occupation authorities of the Crimea. The FSB may 11, 2014 Oleg detained on suspicion of terrorism. Since the beginning of a long and exhausting legal battle – the struggle for the liberation Sentsov from behind bars.
Eugene Chernikov, Oleg's friend, said that Russian law enforcement agencies have developed an absurd situation.
"The first investigative actions at all had been written that they were going to blow up the railway in Yalta. Simferopol – this is the ultimate branch of the railway. In Yalta has no railway. There's even a tram there," he said.
Videoholica Sentsov in absentia awarded the PEN American club "Freedom to write"
Snidanok 1+1
27 APR, 09:57
Facebook

1

VKontakte

Google+

Twitter
"As Director Oleg … he is very easy. He can find common language with people. It begins to sound with it in unison," told Eugene about working with him.
He was charged with preparing to commit terrorist acts in Simferopol, Sevastopol and Yalta. He appealed, in vain. 25 August 2015, a Russian court sentenced.
Videosecu and Kolchenko after the verdict, began to sing the anthem of Ukraine
TSN. 19:30
August 25, 2015, 19:40
Facebook

VKontakte

Google+

Twitter
In February 2016 Sentsov was transferred to serve his sentence in a colony of strict regime in Yakutia. Throughout the history of Oleg behind bars, for his release, struggling cousin Natalie Kaplan. Now, the woman says, when a brother in the Yakut colony, fellowship with him is kept to a minimum. Letters in both directions often do not reach.
"This is one of the means of pressure on political prisoners. Oleg is not the only one who encounters this problem. Censorship," she said.
Personally, to see my brother Natalia can't.
"Oleg refused dates. He said that it's easier for him to stay emotionally", she said.
In his letters Sentsov on prison realities not complaining – more worried about relatives. In the Crimea he left a mother and two children.
"He calls his life "Groundhog day". That is, when a person nothing happens, write him and tell him something very difficult," says sister Sentsov.
In defense of Oleg made a lot of artists from around the world – Directors, Pedro Almodovar, Krzysztof Zanussi, Andrzej Wajda. In the framework of the Project Voice to demand the release of Sentsov was made by actor johnny Depp.
Videojohnny, Depp has supported a prisoner in Russia Oleg Sentsov
TSN. Pdsmi day
November 16, 2016, 23:52
Facebook

VKontakte

Google+

Twitter
Neither numerous public events, nor appeals to the Russian authorities, nor the efforts of lawyers to get the Director of the prison has not yet yielded results. In front of Oleg and his family are still waiting for the case to the European court of human rights. Little hope for this trial close Sentsov are not – simply because Russia is the decision of the European court does not. Hope, they say, for justice of the Russian Themis is simply not there.
Happy birthday Oleg congratulated today by the President of Ukraine Petro Poroshenko. He sent him a book of Soviet dissident Andrei Sakharov.
Friends and family congratulated Sentsov, hoping this is the last time they welcomed him not personally, but through television.
Comments
comments