The threat to freedom of speech: in VR to discuss draft laws on counteraction to threats of national security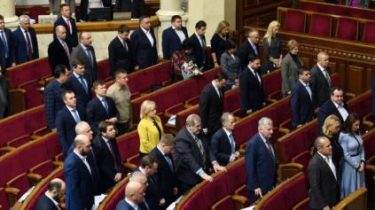 For inclusion in the agenda of the Parliament on 13 July should the bill of counteraction to threats of national security in the information sphere.
It is reported the people's Deputy Olga Chervakova on the page in Facebook.
The bill was introduced by deputies from the Committee of national security and defence Ivan Vinnik, Dimitri Timchuk, Tatiana Chornovol and. According to the draft law, threats to national security in information sphere, in particular, proposed to consider "the exercise of influence on decision making or the Commission or omission of action by public authorities or local self-government bodies, officials of these bodies, associations of citizens, legal persons". It is proposed propose to consider it part of the "technological terrorism". SBU is entitled without a court order through ISP's to block access to any information resource. The reason for this may be the decision of the Prosecutor, the investigator, agreed with the Prosecutor, or the decision of the NSDC.
Tomorrow in the Parliament will be made a new attempt of attack on freedom of speech. For inclusion in the agenda zakonov…
Published by Olga Chervakova 12 Jul 2017
According to Chervakova, all information resources that illuminate these events become candidates for closure.
Videokamery temporarily paralyzed the website of the Ministry of education candid photos unknown blonde
TSN. 12:00
11 Jul, 13:06
Facebook

4

VKontakte

Google+

Twitter
Also on Thursday the Verkhovna Rada will be addressed in the bill on cybersecurity. So, in the transitional provisions, amends the Law "On information" is proposed to introduce a new concept of "technological information". This information about all processes in all sectors of the economy, as well as information about the processes that negatively affect the health and safety of people, the environment, economic, political and social stability of social relations or the economic entities activities.
We will remind, on June 27 Ukraine struck by a massive hacker attack. About the virus Petya.And around 14:00 reported by banks, government and commercial enterprises.
See also:
Hackers have paralyzed the website of the Ministry of education and science of erotic photos
On 1 July, the security Service of Ukraine has declared that it managed to establish the involvement of Russian secret services to attack the virus-the extortioner Petya.A. "The state Duma" such a statement is called a "fake." The main purpose of large-scale cyberattacks virus Petya.A SBU calls the destabilization of the situation in Ukraine.
Meanwhile, the police seized the company's servers M.E.Doc for the investigation of cyber attacks.
Comments
comments