Poroshenko wants to hold the next summits of the EU-Ukraine in Donetsk and Yalta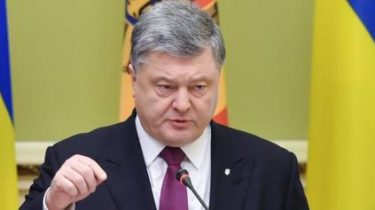 The President of Ukraine Petro Poroshenko hopes for further support by the European Union to hold the next summits in leokumovich Crimea and the Donbass.
He declared it during session of the 19th summit Ukraine-EU.
"I have hope that someday we will spend the next summits Ukraine-EU, let me make a suggestion, the next summits will hold in Donetsk and Yalta", – he said.
Poroshenko also said that to implement this he would do "everything possible".
"We must overcome the biggest challenge that Ukraine has faced since independence: the ongoing Russian aggression, occupation of territory, the illegal annexation of Crimea, hybrid war, which is deployed on all fronts – military, political, economic, humanitarian, information, cyberspace, and ensuring comprehensive and sustainable solution to the current crisis is possible only under condition of full and irreversible return of Russia in the framework of international law", – said the head of state.
The President stressed that in this context, key importance is the preservation of unity within the EU.
"Three years ago when I was asked what the first thing we need from the EU, I gave a very clear answer: first of all, we need the unity of the EU and solidarity with Ukraine," – said Poroshenko.
According to the Ukrainian head of state, evidence of support for the EU is the extension of economic sanctions of the EU against Russia until January 2018 and the "Crimean package" of sanctions until June 2018, as well as a clear emphasis that the sanctions will be maintained until the full implementation of the Minsk agreements.
"We hope to further strengthen the leading role of the EU in the process of peaceful settlement of the situation in the Donbas and support of international initiatives of de-occupation of the Crimea", – he concluded.
We will remind, on June 10, Poroshenko held talks with NATO Secretary General Jens Stoltenberg, who arrived in Kiev. The sides discussed the program for Ukraine, which after three years the Ukrainian army has to reach NATO standards and to learn how to counter Russia's hybrid war, including in cyberspace.
Comments
comments