Blocked the entrances and stuff for the garbage truck: Parliament ends the session with a great the action on the street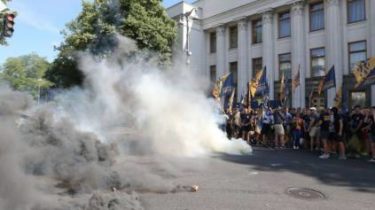 The Verkhovna Rada of Ukraine allowed the arrest of Mikhail Dobkin on the background of high-profile meetings with the riots at the Parliament. The activists blocked all the six entrances and exits of the building, including the underground, according to a story TSN.19:30.
At 9:00 on the street Grushevskogo near the Verkhovna Rada gathered young people wearing t-shirts with tridents. Almost everyone in the hands of the stick or the fire. They guarded the place where the deputies often go to work. "We blocked the exit from the Verkhovna Rada and do not allow them to unlock the next. The police are trying to push us, we stand quietly in their places," – said the protesters. The other part of them was placed on the MPs who go on foot – so catch Oleg Barna, who after an argument with the activists pelted with eggs.
Videoactivity during the day they picketed the Verkhovna Rada, the deputies lifted the immunity Dobkin
TSN. 19:30
On 13 July, 20:00
Facebook

2

VKontakte

Google+

6

Twitter
Meanwhile at BP on Hrushevskoho street clashes broke out between activists and police. Riot police doused the protesters with gas, and those in the answer threw smoke bombs. It turned out that the human shield and clashes people are defending the driver of the garbage truck that stopped in front of the Parliament building. COP this stop did not like, but later it turned out that a garbage truck just broke down. His driver Yuri the actions of the cops outraged and jokes that on the side of the protesters and unload the garbage. The chief police justified that a garbage truck struck him as suspicious. "Let us think of Europe and what are the events with the trucks and how they killed people, I did not once say he was very big in the country the level of terrorist threat," – said Andrey Krishchenko.
Another skirmish occurred after another car – the carriage of an emergency, the siren which does not subside. Protected a car with a dozen guys. To calm the siren, the police checked the number plate – is a struggle. The inspection revealed that the car belongs to a private clinic, which is located in the premises of the Institute of the heart and is associated with its Director Boris by Todorova.
Comments
comments