Without the joint statement and backstage scandal: why the summit Ukraine-EU has been dubbed a failure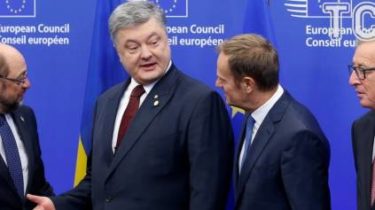 The Association agreement with the EU ratified, but about the European prospects of Ukraine are not remembered – so on the verge of diplomatic scandal began the summit Ukraine-EU in Kiev. The joint statement following the meeting and did not hear, says the story TSN.19:30.
The main intrigue concerning the recognition of the European aspirations of Ukraine in the joint statement following the summit cleared before it starts. Although this phrase is in the preamble of the Association agreement, the Netherlands, followed by Germany and France opposed. They say, do the hints for full membership in the EU before. Through this, some observers even called the summit a failure.
Videoo the time of the summit Ukraine-EU relatives of prisoners of the Kremlin asked for help with the release of prisoners
TSN. 19:30
July 13, 20:32
Facebook

VKontakte

Google+

Twitter
Officially none of the embarrassment is not remembered. But in his opening speech, President Petro Poroshenko has criticized those European politicians who are trying to slam Ukraine doors of the Union. "The right choice of the future belongs only to the Ukrainians, and no country in the world has the right to put on the red light on the way. No nation paid such a high price along the way. With all due respect to every leader institutions and EU member States, I want to emphasize that no one has any moral or political right to give the letter and spirit of the Association agreement. Ukraine has clearly declared its European aspirations and the European choice. We do is not give up and nobody has the right we take," – said the Ukrainian leader.
As if to soften the tension, the President of the European Council Donald Tusk spoke in Ukrainian, in particular, about the need to preserve unity within Ukraine itself. "Today we see an external enemy can't win. You are too strong. But you can also lose themselves through internal conflict", – he warned.
Comments
comments