Klitschko announced the dates for completion Podolsko resurrection of the bridge and reconstruction Shulyavska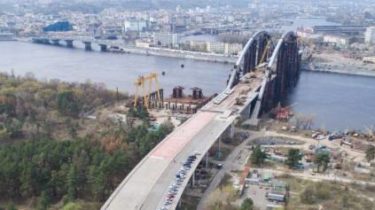 After a month in Kiev to begin work on completion Podolsko resurrection of the bridge. Now there are already doing preparatory work.
About it told the mayor of the capital Vitaly Klitschko on air of TV channel NewsOne.
"Work has already begun on the bridge. This is an important step. Roughly a month later, when will consultations with the investment funds I'll be able to report to Kiev, that the money is there. And we can start construction work," said the mayor.
Autosabina at the completed bridge can start in two and a half years.
Recall Podolsko resurrection bridge began in late 2003. In 2007 the money ran out and work stopped. About it writes "Interfax-Ukraine". Construction resumed in 2010, and in the end put into operation first opened in bilateral traffic on the Havana bridge and the trestle bridge at Naberezhno-khreshchatytska street.
Podolsko resurrection bridge crossing 7 km long and 35 m wide will connect the capital right Bank (Podol), Trukhanov island and the left Bank of Kiev (troyeschina and Voskresensky massif). Designed for motor transport and trains, the future metro line
Also at the end of this year will begin reconstruction of Shulyavska overpass. For this demolished part of the shop of the plant "Bolshevik".
Comments
comments