The diver took a unique video with a 40-ton whale, which is completely out of the water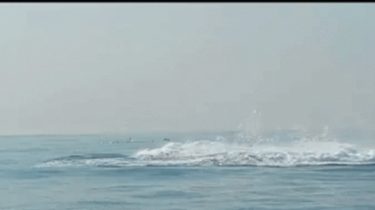 Diver Craig Kephart filmed the spectacular moment of the jump of the humpback whale near the coast of Transkei (South Africa).
The man and his team stumbled across a family of whales – a female and her cub. Suddenly the adult mammal jumped out of the water.
See also:
In the US a surfer accidentally crashed into a whale
"It seems that never before was done recording with an adult humpback whale, which totally jumps out of the water! A very rare event, indeed. Dolphins and even great white sharks were spotted when out of the water, but this was the first adult humpback whale," wrote the author of the video in the comments.
We will remind, recently in Canada the whale killed the fisherman who saved his life. The man helped the mammal to extricate himself from the mesh, but then he struck her rescuer a fatal blow.
Comments
comments