After the fire fighters stopped the Donetsk filtering station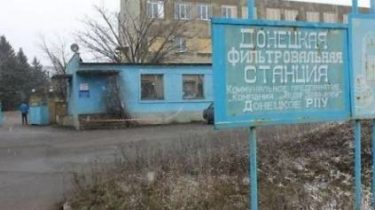 Saturday, July 22, at about 19.20 was disconnected and suspended work in the Donetsk filtering station.
Reported by the Ukrainian side of the Joint center for control and coordination.
In SCCC note that 20 minutes after received this information from employees of DFS, the Pro-Russian rebels announced the beginning of the shelling of the Ukrainian military. The separatists accused the APU damage to power lines feeding the station.
"The Ukrainian side believes that this fake attack nothing like innuendo to discredit the Ukrainian authorities and the armed forces of Ukraine", – said SCCC.
It is noted that this is the second such attempt organized by the militants over the past two days. July 21, during examination by the expert group of the amount of repair work on the damaged main water pipelines from the pumping station of South-Donbas water line to DFS near the settlement of vasilyevk, the militants staged an explosion of the hidden in advance of the munition to simulate shelling by the APU.
The Ukrainian side of the JCCC recalls that the Donetsk filtering station, which provides water to nearly 600 thousand people, it is not the first time becomes the object of speculation by militants in order to discredit the Armed forces of Ukraine and to accuse the Ukrainian side in the fulfillment of the Minsk agreements.
"Next stop DFS and simulated attack near Vasilievka demonstrate that the leadership of the ORDO continues cynically to ignore the interests of the civilian population on both sides of the contact line and wants a further escalation of the armed conflict in the Donbass", – stated in the message.
Comments
comments