Gave back. The leader of terrorists Zakharchenko denied the creation of "the Ukraine"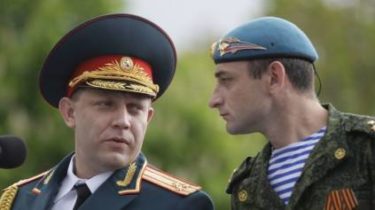 The leader of terrorists "DNR" Alexander Zakharchenko said that the final decision on the creation of "little Russia" on the territory of the occupied Donbas is not accepted.
"Final decisions have not been taken, but, most importantly, the discussion will be continued", – quotes its words a site of fighters DAN.
See also:
"What is the state, and IQ." Marmots responded to the idea of creating "little"
The main terrorist Donetsk suddenly announced that it did not create new "state", but only proposed a discussion.
"In just a week we got huge amount of feedback, comments, suggestions from concerned people from all over Ukraine," Zakharchenko imagining things.
The leader of "DNR" said that the statement about the creation of "the Ukraine" received mixed reviews.
"In particular, the different opinions relative to the location of the capital, state symbols, as well as the composition, format and place of the legitimate constituent Assembly with representatives of the regions of Ukraine", – stated in the text of the terrorists.
See also:
In the Kremlin for the first time responded to Zakharchenko's statements about creating a "little"
As previously reported, on 18 July the leader of "DNR" Alexander Zakharchenko announced the establishment of a "transitional state Malorossiya". In addition, the militants have created a "constitutional act of the Ukraine", according to which "Kiev will retain its status as the historical and cultural center", and the occupied Donetsk is the capital. The flag of the so-called "little" terrorists have identified the flag of Bohdan Khmelnytsky.
The "LC" in turn, said that did not take part in the meeting concerning the establishment of "the Ukraine", and the offer called questionable.
Comments
comments