Omeljan reported receiving complaints from MAU because Ryanair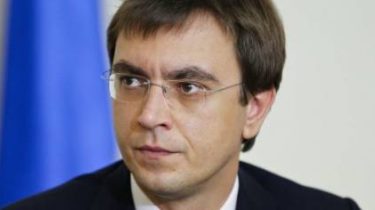 PJSC "Airline "Ukraine International airlines" has filed a lawsuit to the Economic court of Kyiv to the Ministry of Infrastructure and Ryanair, which asks to nullify the contract between the latter on flights from Lviv and Kiev.
See also:
Tough negotiations and aggressive strategy: as Ryanair continues to develop its business and comes to the markets
This is stated in the statements of claim which the head of the Ministry of Infrastructure Volodymyr Omelian announced in Facebook.
In "MAU", said that Ryanair had received "special conditions of airport services", which allow it to sell tickets at more competitive prices. In Ukrainian companies believe that these "benefits" were given the low-cost carrier is illegal.
"The plaintiff (UIA – ed.) to preserve the passenger traffic was forced to reduce the cost of flights on the route Kiev-London, Kiev-Stockholm and Kyiv-Amsterdam (sometimes even below cost) that has led to a significant reduction in the yield of the relevant flights," – said the Ukrainian company.
#Mutant Why is it so hard comes to Ryanair? Many of the explanations of experts: Ministry "not" conducted negotiations; flight…
Posted by Volodymyr Omelyan on Tuesday, July 25, 2017
In MAU believe that Ryanair have had a privileged discrimination. According to the company, the Memorandum of understanding between the Irish low-cost airline and the Ukrainian Ministry was illegal.
"The plaintiff is a person interested in the recognition of the Memorandum null and void, and is entitled to damages, which resulted in the signing of the Memorandum," – said in a statement.
In MAU from the Ministry of Infrastructure demand to pay damages in the amount of 20 050 487, 73 UAH.
Videodirector the airport "Borispol" announced the resumption of talks with Ryanair
TSN. 19:30
July 13, 20:49
Facebook

VKontakte

Google+

1

Twitter
July 10, Ryanair announced its withdrawal from Ukraine , despite prisoner in March, a contract and agreement with the airport "Borispol". According to the company, it is breach of agreement and cause the cancellation of the ward.
Airport Director, in turn, took responsibility for the failure of the agreement with the airport. According to him, the Irish company longed for conditions that violate the Ukrainian laws and business laws. So, Ryanair wanted for yourself free of air navigation in Ukraine, free check-in counters in the terminals, free space for your home office and office for the sale of tickets and the rights to build a hotel at the airport – just 14 points requirements. The last of which – any disputes would be resolved by British courts.
Comments
comments