In the Zaporozhye region are preparing a coup – bree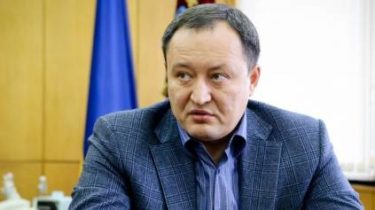 In the Zaporozhye region are preparing for full-scale actions aimed at the seizure of state power, changes of borders of Ukraine.
This was during a speech at the meeting of the extraordinary session of the Council on 27 July said the Chairman of Zaporizhzhya regional state administration Kostiantyn Bryl, assuring that the statement was forwarded to the President of Ukraine, the Prosecutor General and the SBU.
"The so-called fake protest against the infringement of the rights of ethnic groups in the Zaporozhye region, the attempts of the media coverage seems to be promising avenues and achievements of the Russian Federation with the improvement of living quasi-formations "DNR/LNR" is a campaign of information and psychological influence aimed at forming favorable to the Russian side of opinion among residents of the city and the region," he said.
According to Bryl, the heads of several Russian organisations, the coordinators of subversive anti-state shares in Zaporizhia conduct systematic activities aimed at destabilizing the socio-political situation in the region.
"With the involvement of various sources in government circles use different ways of collecting and transmitting information of official character. The accumulation of funds for financing the protests is due to receive in a wrongful way budget resources… Systemic abuse of budget funds, the braking performance of socially important environmental programs, the crime in the sphere of land relations, block programs on important social sectors, support destructive activities in the field of medicine, construction of roads, utility infrastructure and other strategic sites in the region, bringing them to an extremely low state is constantly growing protest mood among the population that you plan to use to achieve these criminal plans," he said, said, representatives of the party "Opposition bloc" and "Self" sabotaging the work of local authorities.
Separately, the head of regional state administration assured that these facts are used by the Russian media propaganda to create a negative international image of Ukraine and inciting separatist moods and the like, at the same time, a great responsibility rests with the authorities and local self-government.
During the thirteenth extraordinary session of Zaporizhzhya regional Council made an official statement about the crime against national security and functioning of the constitutional authorities. Treatment seastrunk officially, because in addition to deputies would be sent to the address of the President, the attorney General and the Chairman of the security Service of Ukraine.
Published by Konstantin Brill 27 Jul 2017
Comments
comments