Mr. Yan accused the Deputy Lutsenko in preventing the completion of the case against Lucas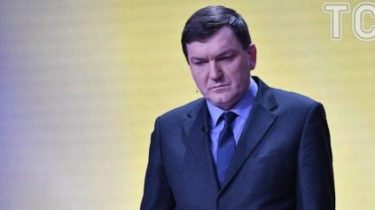 Investigation against ex-Minister of justice of Ukraine Elena Lukash is not completed due to artificial barriers. This was stated by the head of the Department of special investigation GPU Sergey Gorbatyuk.
"Since February of this year the investigator and the Prosecutor think is ready to complete the investigation of this case… the Suspects – not only Lucas, but also more than 10 people, including from the Ministry of justice, private enterprises, lawyers who are charged with misappropriation of public funds", – quotes his quote "Interfax-Ukraine".
See also:
The odious Lucas won the case at the Prosecutor General's office
Mr. Yan emphasized that the draft suspicious transaction reports does not agree with the Deputy Prosecutor General Yuriy Stolyarchuk. He claims that the comments regarding the lack of evidence is not there.
"Created exclusively any artificial obstacles that do not allow to solve this issue", – he added.
Lucas is a suspect in the theft of funds and forgery.
Recall that on 5 November, the SBU detained the former Minister of justice Elena Lukash. It is considered one of the confidants of fugitive President Viktor Yanukovych and had been for some time in the midst of scandals. In addition, she was one of the first who supported the dispersal and beating of participants of Revolution of Dignity.
Also Lucas is one of the initiator of the adoption of "dictatorial laws 16 January". And during the mass executions of activists in the center of Kiev tried to find even a legislative rationale.
During the regime of Yanukovych, Lucas was a people's Deputy from Party of regions, the Minister of the Cabinet of Ministers in Azarov's government, Advisor to the President. As Minister of justice Elena Lukash was appointed in July 2013.
Wanted, which the SBU announced on 10 September, the former Minister of justice was for her involvement in the crimes against the Maidan. Then the data about the search were published on the website of the Ministry of internal Affairs in the section "people hiding from bodies of Prosecutor's office".
The investigation of Lukas GPU is from may 2014, according to which she, working as the Minister of justice, acting in collusion with officials of LLC "European legal group" and physical persons-entrepreneurs during August 2013 – January 2014 took over of state funds in the amount of 2,523 million.
Later it became known that Lucas disappeared on 28 July 2015, and that the court is ruling on her custody matter. In August 2015, the Pechersky district court of Kiev arrested three apartmentsthat belong to Lukas. The suspicion in Commission of crimes, according to the PGO, was announced on 28 may 2015.
6 Nov Pechersky court of Kiev arrested Olena Lukash for 2 months with the option to bail. As you know, bail for the former Minister made people's Deputy Vadym Novinsky.
Comments
comments