I was in the "black list" on all Ukrainian TV channels – Saakashvili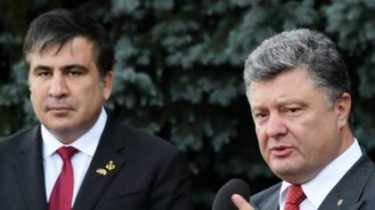 The former head of the Odessa regional state administration of Mikheil Saakashvili, which has deprived the Ukrainian citizenship,said that "were "black" on all channels".
He said this in an interview with "Ukrainian truth".
"Poroshenko – the man that I closed the TV. It was very cynical, because at the time when the "5 channel" were not allowed to go out in the regions, I, as President of Georgia, put…" – said Saakashvili when he interrupted the reporter and asked whether he meant "black list", which, according to the journalist, the President's Administration sends to channels.
"Yes, I was in the "black list" on all channels. Ironically I helped him to his channel showing in Georgia," said Saakashvili.
See also:
Last time I was in Ukraine was not allowed Yanukovych – Saakashvili
He also said that "Poroshenko forbids him esters".
"Poroshenko – the man I came to help on the second Maidan, which I was not allowed Yanukovych. And now the same man forbids me esters and the same person will not allow me to Ukraine. Where cynical?" – said the politician.
"He really can not know what to do. There are people who know not what they do. This is knows. This knew, who helped in Odessa against me, knew that such censorship when it was used against him, he knew what not to let political opponents. It really took all the weapons from the previous government", – Saakashvili added.
Videosgallery, commented on the situation with the deprivation of Ukrainian citizenship
TSN. Wounds
27 Jul, 09:03
Facebook

5

VKontakte

1

Google+

1

Twitter

1
We will remind, the President Petro Poroshenko has deprived Saakashvili of citizenship of Ukraine based on the recommendations of the Commission on citizenship issues under the President of Ukraine. This was reported in the presidential Administration.
Saakashvili himself said that it wants to make to refugee status, but he is going to pursue the legitimate right to return to Ukraine".
Ukrainian citizenship Saakashvili gave his decree the President of Ukraine Petro Poroshenko at the end of may 2015. On the eve of obtaining his Ukrainian passport was appointed Chairman of the Odessa regional state administration. In December 2015, it was deprived of Georgian citizenship.
At the head of the Odessa region , Saakashvili worked for a year and a half, after which he announced his resignation, accusing the President of violating the promises and progress to senior positions in the regional administrations of the "old corrupt". Then the former President of Georgia announced the creation of their own political powerwhich will go on elections to the Ukrainian Parliament.
Comments
comments