146 days of hell. Defenders of Lugansk airport presented orders from the ex-servicemen and volunteers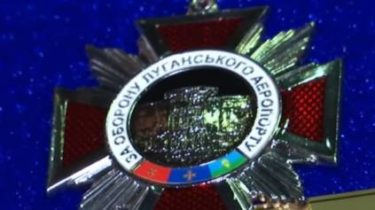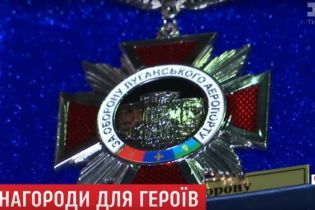 In Chernivtsi honored defenders of Lugansk airport, which was 146 days in a circular siege and heroically out of the environment. 79 soldiers of the 80th airborne brigade received the order "For the defense of Luhansk airport". Award – non-governmental, founded by former military and volunteers. However, for soldiers who participated in the fighting for the airfield, it is no less important than the state.
This is stated in the plot of TSN.19:30.
30 days in hell – paratrooper Alexander Grankin still clearly remembers how, together with his comrades kept the defense of the Lugansk airport. And how out of the encirclement under cover of darkness.
"It was hot, plus 36. There was no water. It specifically saw a "Grad". Then not only "Grad", tanks and the like. Had our gunners to shoot from the rear on the checkpoint," – says the participant of defence of the Lugansk airport Alexander Grankin.
Today Alexander has already been demobilized military, festive occasion to put on the form and see combat sworn brothers.
This independent award was established last year volunteers and former military. It is awarded to the defenders of the airport – for courage and heroism. This year the award was given to 79 80 paratroopers brigade.
"This is true, honestly. They know and IL-76, and other fights, the guys there did a lot for Ukraine", – said Chairman of the all-Ukrainian Union "Brothers of Ukraine" Nikolay Minho.
Badge volunteers were developed together with the paratroopers. The image of the destroyed Lugansk airport it recalls the fierce battle for the airport and fallen comrades.
The military said that the people's reward for them is no less important than the state of the coin. For the award they came with their wives and children. They say that for them and kept the defense of the airfield three years ago.
8-year-old Roman Ivanchuk said, war rarely talk about the war, but he knows for sure that this award is given only to the most daring. Today his dad was a paratrooper Bohdan Ivanchuk – Kherson on the landfill continues to service contract. Therefore the reward the father gets the boy.
"Dad, this is your reward. Come quick," says the son of a paratrooper Roman Ivanchuk.
More details see in the story of Oleg Today.
Videovelocity awarded the order of 79 soldiers who defended Lugansk airport
TSN. 19:30
Yesterday, 20:50
Facebook

2

VKontakte

1

Google+

Twitter
Comments
comments