Finance Minister danyluk was suspected of tax evasion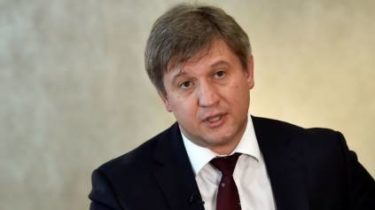 The General Prosecutor's office began checking Finance Minister Alexander danyluk in the case of possible tax evasion.
This is evidenced by the decision of the Pechersk district court of 18 July.
In particular, the court permitted the employees of the State fiscal service to conduct an audit of the Minister and subject to compliance with tax and currency legislation for the period 1998 to 2016.
Danilyuk incriminent violation of part 1 of article 212 of the criminal code (evasion from payment of taxes, fees, mandatory payments).
According to information of Deputy treatment in the period 2010-2014 danyluk was at the head of the coordination centre for economic reforms implementation at the presidential Administration. According to the tax information about income, danyluk over the years received income in the amount of UAH 556 162,98.
In addition, during the same period, acquired the property following property: a residential building with a total area of 290 sq. m. for 2,054 million hryvnias, and also BMW X5.
Also in 2014, he made a contribution to an account in PJSC "Ukrsotsbank" in the amount of UAH 519 665,67.
Therefore, the investigation made conclusions about the presence of the probable evasion of taxes and fees.
Recall danyluk announced its annual Declaration. So, in 2016 the official reported income in total amount of UAH 514 761.
Wages danyluk was 442 774 hryvnias, UAH 212 – interest on Bank Deposit, 71 805 UAH dividends.
According to the Declaration, Danilyuk declared 130 thousand dollars, and his wife of 17 thousand pounds in cash. Also on the Bank account of Olga danylyuk is 7600 pounds. The Minister of Finance has 1458 $ 3188 UAH in the Bank. 53 thousand dollars, the official lent to third parties.
Comments
comments