Poroshenko signed a historic law on the constitutional court and called its advantages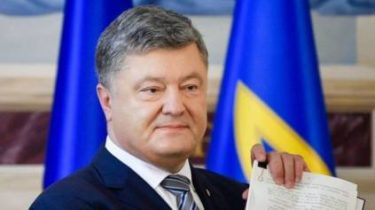 The President of Ukraine Petro Poroshenko on July 31 signed the law "About the constitutional Court of Ukraine". About it reports a press-service of the head of state.
He stressed that the document is a constituent part of the judicial reforms, which are aimed at ensuring the rights of Ukrainian citizens to a fair trial.
According to him, one of the fundamental characteristics of the law – a transparent competition candidates.
See also:
Judicial reform in Ukraine: the deputies voted for the creation of the High Council of justice
"Completely transparent competitive selection of candidates for judges to the constitutional court", – said Poroshenko.
The second innovation is the possibility of any legal (with the exception of representatives of the state or local government) or individuals to submit a complaint to the constitutional court. Poroshenko noted that never in the history of Ukraine such right is not had by ordinary Ukrainians.
"If a person, after trial in the ordinary courts, believes that the law that was applied when deciding on it, is unconstitutional, he should not look for people's deputies or the President. She finally got the right to appeal directly to the constitutional court with a constitutional complaint. And the court must consider and make a decision", – the President added.
In his opinion, this will significantly increase the level of protection of the constitutional rights and freedoms of citizens.
We will remind, earlier the President of Ukraine Petro Poroshenko summed up the end of the contest on the formation of a new Supreme Court. According to him, for the first time this process was transparent, and the data for each of the candidates were kept in the public domain. The finals got 120 people.
Comments
comments