Deserved response: Poroshenko thanked the EU for sanctions against Russia due to turbines Siemens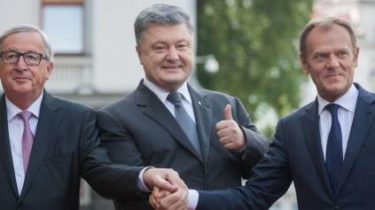 The President of Ukraine Petro Poroshenko thanked the Council for expanding the list of sanctions against Russia, which followed the scandal around Siemens turbines in the occupied Crimea.
"The deserved response for the disrespect of contractual obligations and a strong signal to the aggressor in the unshakable unity and solidarity between the capitals of the European Union. Together with the EU will continue to guard an effective regime of sanctions, what we talked about during the Summit Ukraine-EU in Kiev", – said the President.
Poroshenko also said that attempts to circumvent the sanctions will only increase the price for aggression.
"And this be until it is restored the sovereignty and territorial integrity of Ukraine, including Crimea!" – said the head of state.
Grateful to the Council for a final decision to impose sanctions against Russia for "precedent Siemens"! Deserved response for Neova…
Published by Petro Poroshenko on 4 August 2017
In early July, Reuters reported that Russia imported turbine to power the German company Siemens in the occupied Crimea, despite European sanctions. The German company stated that it did not have conclusive evidence of the possible delivery of the turbines in the Crimea.
On 11 July it became known that Siemens has filed a lawsuit against the company "Technopromexport" for the supply of turbines in the Crimea.
After that, the Russian media reported that in St.-Petersburg employees of FSB have detained the General Director of company "Power machines" of the Novel, which, according to preliminary data, suspected of divulging state secrets. At his workplace and home were searched, then Director of "Power machines" was questioned and released under recognizance not to leave.
According to the investigation, Roman Filippov "informed outsiders of documents containing confidential information".
The company "Power machines" together with the German company created the "Siemens Gas Turbine Technology", which was developed gas turbine SGT5-2000E. Later the turbines were delivered to the occupied Crimea company "Tekhnopromexport", although the sanctions prohibit Siemens to do this.
Video settings the port of Feodosia was the equipment like turbines manufactured by Siemens
TSN. 12:00
July 13, 12:53
Facebook

3

VKontakte

3

Google+

2

Twitter

1
Comments
comments