Ukraine has expelled the propaganda that talks about "neo-Nazism" by well-known Ukrainian festival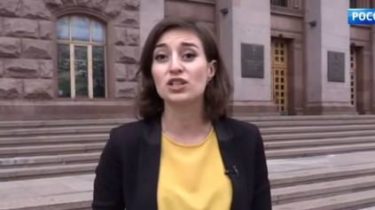 Ukraine has expelled the correspondent for the Russian state television and radio broadcasting company (VGTRK) – Pro-Kremlin , the propaganda the Tamar Nersesian.
About it reports on Tuesday, the TV channel "Russia-24", where she works.
See also:
Kremlin propagandist Phillips decided to marry in the occupied Lugansk
The security Service of Ukraine confirmed that it was sent today, August 15, at night. The propaganda also was denied entry to Ukraine.
Tamara Nersesian is the author of the story for propaganda channel "Russia-24" about Lutsk the festival "Bandershtat", which was promulgated on 7 August. It tells that the event promoted the idea of "Nazi collaborators of Stepan Bandera, to play the hymns "punitive" and the festival is organized by both the Ukrainian government and the "neo-Nazi" along with "Western curators".
We will remind, in July, the security Service of Ukraine expelled journalist Maria Knyazev, who under the pseudonym "Saushkina" worked on TV channels "Russia-1 and Russia-24". According to intelligence agencies, Russian woman, using connections with Pro-Russian representatives of the Ukrainian media and experts, collecting information on the situation in Ukraine, activities of the Supreme bodies of power and power structures. After that, the reporter used the data to biased reporting of the situation in Ukraine.
Priznaytes to TSN from Viber that atribuite
nivalis news just the messenger!
Comments
comments