In Dnipropetrovsk regional administration "works" is a real cat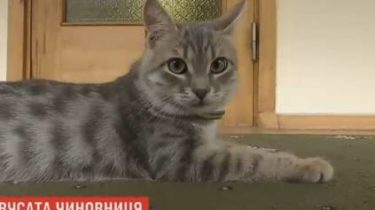 In Dnipropetrovsk regional administration cat walking to meetings, studying reports, and just walking the tables of the heads. He lives in a foster freely walking in the rooms and trying not to miss a single meeting, says TSN.16.45.
Lying on the keyboard of computer secretarial, reception of advisors of the Tiger greets visitors. First, face-control. To let a person to the office of management decided in seconds.
At the meetings feels like home. Busily looking at the monitor, examining the reports brought in, jumping on cupboards and tables.
Three months ago, a little kitten left without a mother, brought Advisor to the Chairman. Took the volunteers, they were assured, the cat limp and relaxed and hassle it will not work. On the first day the baby was proved not exactly.
Directly in a foster cat set house, toilet and bowl with food. But in this area for secretarial Desk Tiger almost never sits. All day running around offices.
Unlike other employees, the cat does not miss a single meeting. Besides, she works overtime day and night. Gets paid exclusively boiled meat or baked fish. Lunch three times a day. There are trips to other floors. To retrieve the Cub for an hour, employees stand in line: they say that her purring is the best sedative.
She, like everyone in this building, five-day working week. On weekend officials take turns taking the Cub home. And already thinking in a couple of her start in administration, and a cat.
Priznaytes to TSN from Viber that atribuite
nivalis news just the messenger!
Comments
comments