The tube does not disappear: the action drivers in foreign rooms in Kiev will last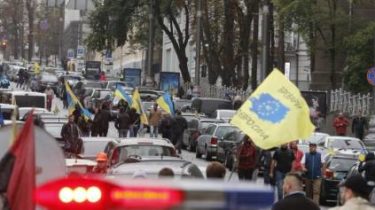 The center of Kiev is in traffic jams and loud knock on the Grushevsky street – this was an action of owners of cars with foreign registration in the capital. The government quarter was difficult to pass at 7:00 in the morning, says the story TSN.19:30.
Drivers in cars with Lithuanian and Polish numbers parked in three rows and added work police dogs that test, not the protesters brought with them explosives. At 8:00 a.m., motorists began to beat in a barrel – the rattling noise didn't stop all day, despite the pouring rain. In the Verkhovna Rada on Friday was not a working day, however, participants were not embarrassed. "They'll hear us, they live next door" – confident drivers.
Video settings the capital owners of cars with foreign registration staged a mass protest on the street Grushevskogo
TSN. 19:30
Today, 19:53
Facebook

1

VKontakte

Google+

Twitter

1

Viber
Their demand is to significantly reduce the cost of customs clearance of the cars which are imported from abroad, and to allow to import vehicles of any year of production. Existing regulations, norms and the cost of customs clearance they call absurd, unacceptable and high. Ilya beetle per share came from Chernivtsi to 9-year-old "Reno" and explains that if I bought the car legally in Ukraine – would have spent much more. "It was bought there for € 1750. She 2008. I have a friend same car, same color, 2006 bought for 8 thousand dollars we have on the market. Not twice, but three times more," says the motorist.
See also:
Car owners on avtonomera decided to protest indefinitely
Now in Ukraine there may be up to two million machines with vromoneri – all of them imported for controversial schemes. Who of the drivers has a co-owner, for example, in Lithuania, and each year travels abroad, to avoid paying a fine, and someone still pays a fine and goes at a time without interference. Dislike their drivers on the Ukrainian rooms and the police, because of cases when the foreigners left the scene of the accident or had an insurance policy, and find an unregistered car after an accident is difficult. The protesters claim that they are ready to legalize their cars, but only under the new rules, that is, on the cheap.
Comments
comments