Saakashvili disappeared from the hotel in Lviv: the politician did not return for the night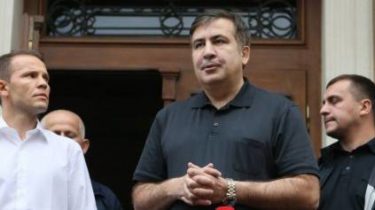 The leader of the "Movement of new forces," Mikheil Saakashvili disappeared a few hours ago, the night he left in an unknown direction from the hotel in Lviv.
About it reports TSN. Ranok.
See also:
Saakashvili's appeal against deprivation of nationality in court – lawyer
Another evening in the lobby, where Saakashvili had a Suite, it was very crowded: there were security guards of the former head of the Odessa regional state administration and his associates. Later they abruptly went outside, where she sat down in the van of the battalion "Donbass" and other cars and drove in the unknown direction.
A few guards Saakashvili remained inside and assured reporters that their boss was not going anywhere to go and spend the night in the room. However, subsequently, the Elevator suddenly came and Saakashvili himself and then walked out of the hotel. The guards said that the politician was away on business.
Despite the fact that after some time the van returned to the hotel, the delegation, headed by Saakashvili journalists saw. The staff also noted that the policy did not return.
Lawyer Saakshvili stated that she is not sure where his client, but suggested that he could go to Chernivtsi.
Updated 8:10
Lawyer Saakshvili stated that she is not sure where his client, but suggested that he could go to Chernivtsi. The law enforcement sources said TSNthat a politician of scope are not allowed.
Videoscale know, when will consider the case of illegal border crossing Saakashvili
TSN. Pdsmi day
Today, 00:25
Facebook

1

VKontakte

1

Google+

2

Twitter

1

Viber
Today, 13 September, the ex-President of Georgia promised to start their tour of Ukraine – the first city to be visited were selected Chernivtsi.
Recall, September 10, Mikheil Saakashvili, who is deprived of Ukrainian citizenship, entered the territory of Ukraine through KP "shehyni" that in Lviv region, although I was going to make it through KP "" that in the Lviv region. To the border he got a bus.
At first he tried to cross the border by train intercity "Przemysl – Kyiv", but he was detained because of "the man who has no grounds for entry into Ukraine".
With the help of the supporters of Mikheil Saakashvili arrived to Ukraine. The border service will appeal to the courtto fix the violation of the border by the policy under article 204 Article (Illegal crossing or attempt of illegal crossing of the state border of Ukraine).
Guards 10 and 11 policemen were injured and at the checkpoint as a result of the breakthrough. The police in Lviv region opened criminal proceedings on the fact of breaking the boundaries of article 332 (illegal transportation of persons through the state border of Ukraine) of the criminal code of Ukraine. also the incident is being investigated under the article "about the resistance to law enforcement officers during the execution of their duties".
Comments
comments