Another delusion: Gerashchenko has explained, why Russia came up with a "hybrid" proposal for peacekeepers in the Donbass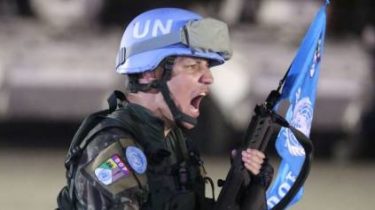 His initiative to host the UN peacekeeping mission in the Donbass Russia is just playing for time.
This was stated by a member of the humanitarian sub-group of the Trilateral contact group on conflict settlement in Donbas, first Deputy Chairman of the Verkhovna Rada Irina Gerashchenko.
See also:
Over the past year in the OSCE mission in Donbas has doubled the number of Russians – Gerashchenko
"In fact, the Russian Federation, the Russian President dropped this hybrid surrogate proposal for peacekeepers, who are supposed to be on the frontline and protect the OSCE mission, that is absolute nonsense. No peacekeeping mission, whose mandate would be to protect another mission. It was therefore abandoned this surrogate offer, realizing that the world ever partners of Ukraine, members of the UN security Council won't accept it. And it was done just in order to delay the time," she said.
Videosshe will not agree to the conditions of Russian deployment of peacekeepers in the Donbas – RAM
The right to rule
22 Sep, 01:11
Facebook

VKontakte

Google+

Twitter

Viber
According to her, with regard to the alleged inconsistency of the idea of introducing a peacekeeping mission to the occupied territory "is another delusion of the Russian foreign Ministry".
"The Minsk agreement aimed at restoring peace in the Donbas. And the key point of the Minsk agreements – a policy component. But over the Minsk agreement that Ukraine should get access to the Ukrainian-Russian border and to restore there the presence of our border guards. So actually we have already started the fight for our border," she commented.
Read the full interview with Vice-speaker and member of the Tripartite contact group Irina Gerashchenko on the link.
Comments
comments