Savchenko has accused Turchynov of lying and took the microphone in Parliament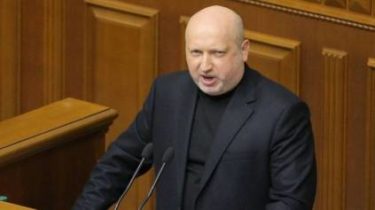 Non-faction MP Nadia Savchenko attacked the NSDC Secretary Oleksandr Turchynov during the session of the Verkhovna Rada.
Note, the incident occurred when deputies blocked the Presidium and rostrum of the Parliament, and started the brawl.
Turchinov turned on the microphone in the government box, and stated that "there is an attempt to block the decision of the Verkhovna Rada on recognizing Russia as an aggressor".
"And everyone who does it are now working for Russia deliberately or not deliberately," he said, urging MPs to stop the brawl and vote for a certain bill.
See also:
Turchinov explained how the bill on the reintegration of Donbass will help to liberate the occupied territories
In turn Savchenko ran up to him screaming "It's a lie!" and dramatically lowered the microphone, depriving him of the opportunity to speak further.
After that, the NSDC Secretary left the hall of the Parliament.
We will remind, after MPs began to block a tribune, the speaker of Parliament Andriy Parubiy brought together the heads of the faction at the meeting. He later came out of the coordinated position of the faction to remove from the bill on the reintegration of Donbass , the Minsk agreement, announcing that closed the meeting of Parliament.
Comments
comments