I am pleased to support the bills Poroshenko on Donbass. As voted by the deputies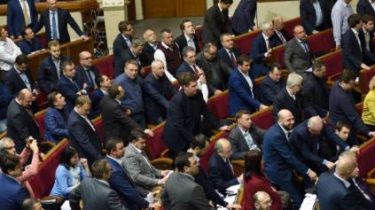 Today, October 6, the Verkhovna Rada of Ukraine voted for the bills that define the future of the occupied part of Donbass.
So, in the first reading the Parliament adopted the presidential bill on the peculiarities of the state policy on ensuring state sovereignty of Ukraine on the temporarily occupied territories in the Donetsk and Lugansk regions (No. 7163)
See also:
In Parliament allowed gas. Video added
For this decision voted 233 deputies out of 335 registered in the session hall. From the BPP voted for the bill most of the deputies – 114, against – none. From the "popular front" the bill was supported by 71 MP from the faction – 19, whereas the vs – 3.
Also voted "for" the 17 deputies from the Radical party and 12 from the "Will of the people."
In turn, the "Opposition bloc" were made against for voted 24 MP. Four people's deputies from "Samopomich" has not supported this bill.
Regarding bill 7164 "On creation of necessary conditions for the peaceful settlement of the situation in certain districts of Donetsk and Lugansk regions", he was voted 229 of 337 deputies registered in the session hall.
In particular, the "for" vote of 122 deputies from the faction of the BPP, 59 – from the faction "people's front", 9 – from the faction "Opposition bloc", one Deputy from the faction of Samopomich faction and Radical party. From "Revival" for this law voted 19 deputies from the group "will of the people" – 8. Not vote in full faction "Batkivshchyna".
Comments
comments