In Parliament allowed gas. Video added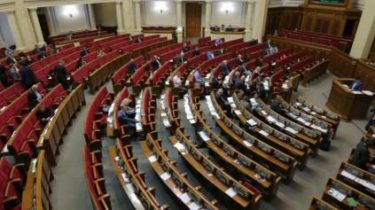 In the Verkhovna Rada during the meeting, which is considering a bill on the reintegration of Donbass, started gas.
As it became known, the incident occurred near the sector of "Samopomich".
According to deputies, in the hall felt the acrid smell.
At the same time there is information that someone could throw a smoke grenade.
Sprint Grouse with smoke.
Good reaction! pic.twitter.com/CnyZgycaau
— Alex Ryabchyn (@alexrbchn) October 6, 2017
Subsequently there was a fire in the bathroom on the first floor of the Rada.
See also:
The Deputy from "Freedom" said that would have burned the Parliament
We will remind, today's meeting of the Verkhovna Rada began with a slight delay. The place of the Bureau was surrounded by deputies from "Blok Petro Poroshenko", the MPs from other factions and non-faction not disrupted the meeting. Paruby put the bill to a vote. At this time, near the podium began skirmishing deputies. The vote was held – 233 votes "for", the draft law on de-occupation of Donbass took as a basis. It deleted the mention of the Minsk agreements.
Comments
comments