Poroshenko said the offer to sell Crimea for Russian oil with Churchill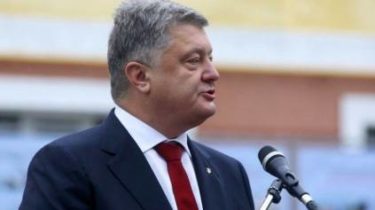 The President of Ukraine Petro Poroshenko, commenting on the words Czech counterpart Milos Zeman on the possibility of compensation Russia annexed the Crimea, said that is not going to bargain for Ukrainian land.
This was stated during a speech at the session of the parliamentary Assembly of the Council of Europe.
"In 1950, Winston Churchill, the ideological father of the Council of Europe, addressed this Assembly on the backdrop of threats that emerged on the background of the conflict between Europe and the Soviet Union. He noted that Moscow has great potential to create a lot of trouble. In the circumstances he said two very important things: "Either we will increase its value, weight and value of Europe or we will lose". Remembering these words, I reject the assertion of those who say that Crimea is finished business," – said the head of state.
See also:
We don't negotiate! As Ukrainian politicians reacted to the statement by the Czech President about the "sale" of the Crimea Russia
Poroshenko noted that the tribune in PACE "was not created for peace appeals, not to appeals to bargain territories for money, oil or gas."
"This has never happened. Today is the day when Moscow is pushing Europe to the reality, which is so concerned about the Churchill 70 years ago," the President added.
He also assured that Ukraine wants peace, but it can be achieved "only on the basis of respect for sovereignty and territorial integrity of Ukraine".
"The key to our success is the maintenance and strengthening of our unity and solidarity and sustainability" – summed Poroshenko.
Earlier, Czech President Milos Zeman called the annexation of Crimea by Russia "completed thing" and offered to compensate for "depressed" areas or financial gas.
"Crimea is annexation, without a doubt. It is a finished work (fait accompli). In my opinion, will be some compensation for Ukraine – or in a financial form or in oil and gas", – he stressed.
See also:
"Contrary to our foreign policy": Czech Prime Minister criticized the proposal Zeman "sell" Crimea
In turn, the Minister of foreign Affairs of Ukraine Pavlo Klimkin in response to the proposal of the President of Czech Republic Milos Zeman to compensate Ukraine Russia annexed the Peninsula of Crimea urged not to pay attention to him, but to deal with those who invited him to speak at the session of the parliamentary Assembly of the Council of Europe.
Comments
comments