In Kiev vandals desecrated the anti-Polish mural inscriptions with an image of Pope John Paul II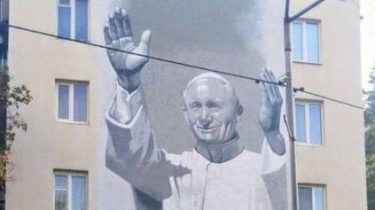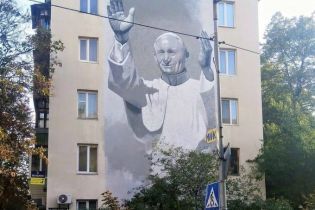 In Kiev, the vandals left anti-Polish inscriptions on the house number 2 on the Boulevard Maria Primachenko.
Here today, October 15, with the participation of the mayor of Kyiv and ambassadors of Poland and of the Vatican in Ukraine planned opening of the mural with the image of St. John Paul II, writes UKRINFORM.
It is noted that on a place of incident there arrived the Polish diplomats, who said the Ukrainian law enforcement authorities about an act of vandalism. After fixation, the police act of vandalism utilities Pechersk district of Kiev has removed these labels.
See also:
In Poland detained a vandal who painted a swastika and gallows, the building of the Consulate of Ukraine
The police of Kiev, in turn, said that the actions of criminals, investigators qualify under article 161 of Ukraine's Criminal code: Violation of citizens ' equality based on their race, national origin, religious belief, disability and other grounds.
"On the scene, the police recorded this fact and found that the writing on the wall appeared in the night from Friday to Saturday. After the primary check, the event information included in the Unified register of pre-judicial investigations on signs of part 1 of article 161 (Violation of equality of citizens depending on their racial, national belonging or attitude to religion) of the Criminal code of Ukraine. Investigators establish persons involved in the offence punishable by up to five years of imprisonment", – the press service of the police.
We will remind, in the city of Rzeszow in southern Poland, vandals struck inscriptions in red paint on the building of the honorary Consulate of Ukraine. In particular, the building of the Consulate of the Polish language, wrote: "Ukraine – the OUN-UPA", "Waffen SS Galitzien", near the coat of arms of Ukraine drew the gallows and the inscription Raus (German for "down" – Ed.) a swastika and the inscription in Russian "no".
Comments
comments