Male love: the vets figured out why in the oldest turtle in the world no offspring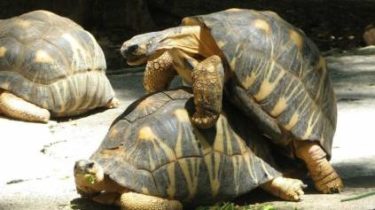 The vets figured out why the world's oldest tortoise Jonathan 1991 no offspring. It turned out that for 26 years he mated with the female Frederick, and the male with Frederick.
On it informs Daily Mail.
Veterinarians explained that the 186-year-old Jonathan, who has lost his sight and smell could not distinguish the female from the male. Why it has not turned out the zoo workers, is unknown.
See also:
In Thailand from a blood infection and died a turtle, which got almost a thousand coins
The World's Oldest Animal Is Probably Gay | HuffPost News
This 186-year-old giant tortoise is probably gay since his true love is a male tortoise.
HuffPost published 24 Oct 2017
Jonathan lives on St Helena, which is part of the British overseas territories, in 1882.
Videoblue 5 thousand rare Amazonian river turtles released into the wild in Peru perednezadny
TSN. 12:00
19 Oct, 12:55
Facebook

VKontakte

Google+

Twitter

Viber
We will remind, in the rivers of Bolivia has produced more than a hundred thousand young turtles. It is noted that summer the turtles have almost disappeared from local waters, because their meat and eggs are very nutritious and popular among hunters. In turn, the smaller turtles became, the more they suffered the ecosystem.
Reptiles eat the pests that pollute the river. If these kids don't get shot by poachers, they will grow to meter size and will be able to live to a hundred years.
Comments
comments